Food Dyes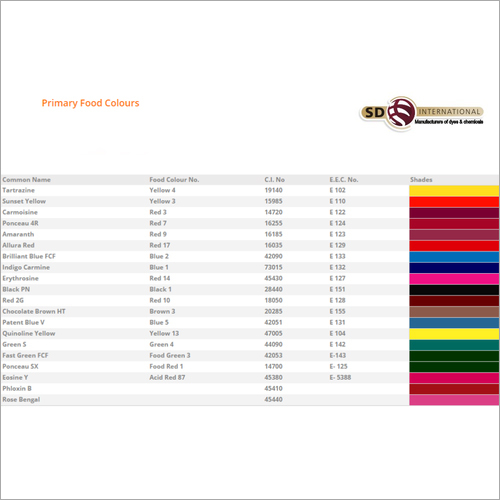 Food Dyes
Product Description
Food Dye is the artificial food color, we offer at SD International. It provides bright colors to candy, baked goods and sports, soft drinks, pickles, salad dressing, smoked salmon, medicines. Commonly used to improve the appearance of food and proffering it an attractive and artificial color, Food Dye manufactured and exported by us is demanded for food processing industries. This is safe to consume of used in moderate amount. It is also used in cake-decorating gels.
Frequently Asked Questions
1. What common food dyes are there?
Ans - Red 40, Yellow 5, and Yellow 6 are the most widely used food colorings. 90% of the food dyes used in the US are these three ( 3 ). Other dyes are permitted in some nations but prohibited in others.
2. How are food dyes made?
Ans - Coal tar, which is made from coal, was originally used to make artificial food colorings. The early opponents of artificial food colouring were quick to draw attention to this. Today, crude oil, or petroleum, is the source of the majority of manufactured food colours.
3. What purposes do food dyes serve?
Ans - Food colouring additives are used for a variety of purposes, including enhancing foods visual appeal, flavour, and nutritional value. offset colour fading brought on by exposure to air, moisture, extreme temperatures, and light. correct natural colour variations.
4. What are synthetic food colours?
Ans - The majority of foods that are coloured artificially use dyes, which are petroleum-based synthetic chemicals that are not found in nature. A good rule of thumb is to avoid all foods that have been coloured because food dyes are almost exclusively used in foods with low nutritional value (candy, soft drinks, gelatin desserts, etc.).
Contact Us
701, Ashok Heights, Gundavali Hill, Off Old Nagaras X Road, Andheri East Mumbai Maharashtra India +918045475589
Phone :+918045475589